Best Real Estate Brokerage for New Real Estate Agents in Massachusetts
---
How to choose my first MA real estate brokerage?
Did you just get your Massachusetts real estate agent salesperson license?
Maybe you've taken the Massachusetts real estate salesperson pre-license education course and are about to sit for the real estate exam? Or possibly you're mapping out your strategy to transition to a full-time or part-time career in real estate.
Newly licensed Massachusetts real estate agents who are entrepreneurial, self-starting, and naturally curious are crushing it at Stuart St James!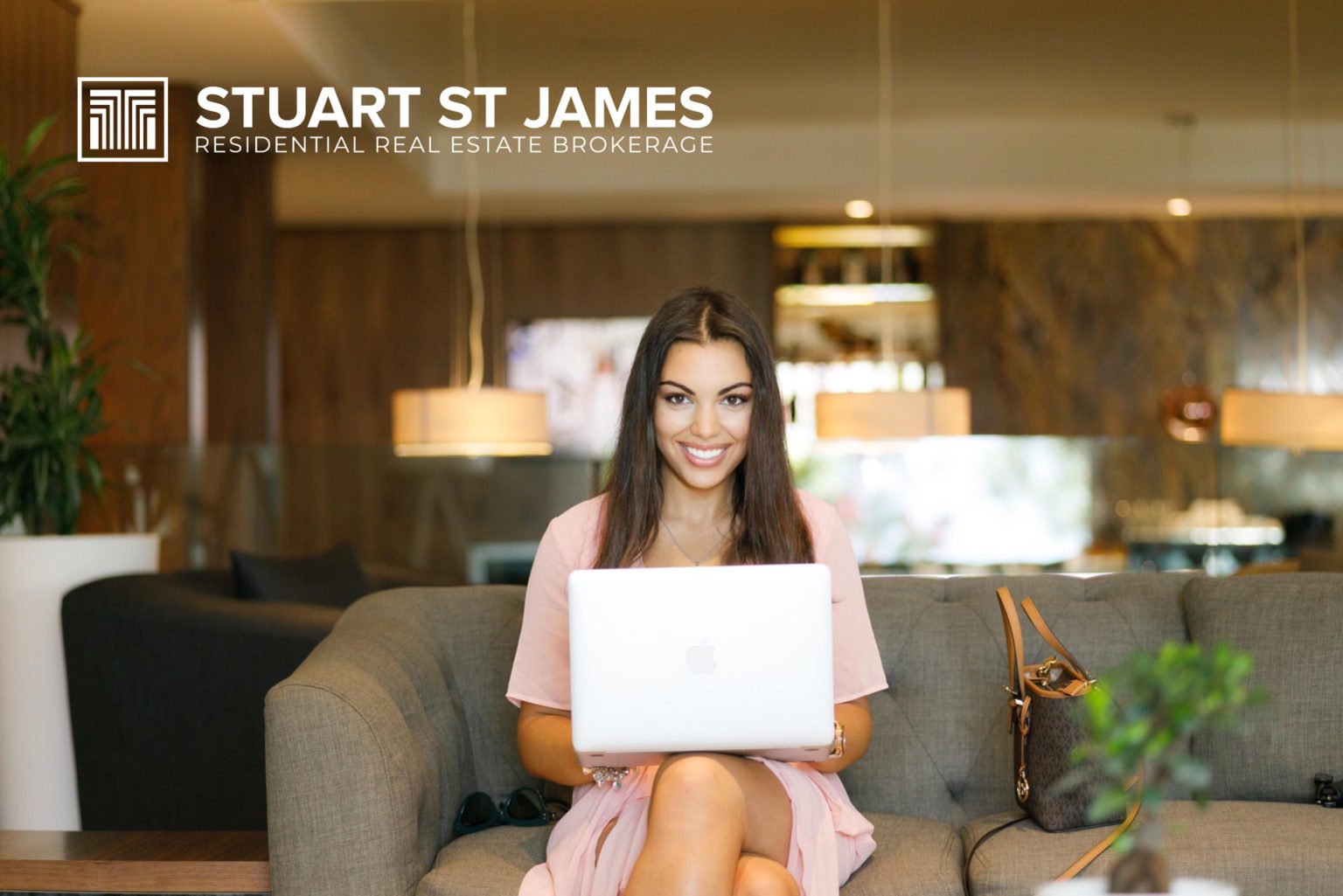 Real estate agents with no experience who decide Stuart St James is the best real estate brokerage to join make a commitment to study the standard Massachusetts sales transaction contract flow to extend their knowledge beyond pre-license education and get up to speed and equipped on the practical aspects of how to do real estate transactions.
We offer new real estate agents an online video training course (free) that gives the practical insight you simply don't get in your salesperson pre-license education and solves the big challenge all new agents struggle with on how to bridge from pre-license education to actually practicing real estate – this free on-demand training accessible when you join Stuart St James will give you the confidence and step-by-step proven formula to learn, grow, eliminate anxiety, and feel confident in your knowledge of how to actually do your very first real estate deal in Massachusetts. We also have high-level process flow and timeline descriptions that are proven to help.
Imagine when you can make a clear no-brainer decision to join the right real estate brokerage because, shocker, that brokerage transparently shares all the facts with you on exactly how you will be paid and commission you will earn along with full upfront visibility to any and all fees involved in running your real estate business. Read our Real Estate Brokerage "PASO" Marketing Framework.
Stuart St James offers brand new Massachusetts real estate agents (1) an unparalleled commission split, there is none, you unlock access to 100% commission immediately with no waiting period whatsoever and (2) alignment and a comfort level on full-time vs part-time (or less), you practice as much or as little as you like, no awkward conversations or disappointment if you're not closing deals, we promise.
As a newly licensed real estate agent salesperson, you simply will not find this fully transparent, no-nonsense, no-hassle approach anywhere else – this, along with what is undeniably the most agent-friendly compensation and business model out there makes Stuart St James the best real estate brokerage for new agents in Massachusetts.
New Massachusetts Real Estate Agents Ask These Questions
Assuming you're at least 18 years old and have a social security number, there are actually just a few steps to get a real estate salesperson license in Massachusetts. In most instances. how quickly you can get your license is throttled by the 40-hour Massachusetts real estate education course you're required to take. Upon completion of your pre-license training course, you apply to take the real estate license exam using your course completion certificate, schedule a test date with PSI, and if you pass the Massachusetts real estate test, you can get your license on the spot after paying a $150 application fee.
The real estate agent licensing process can be measured in weeks not months and is heavily dependent on the pace of the required 40-hour pre-license education and how quickly you feel comfortable sitting for the Massachusetts real estate exam.
Four major recruiting and salary insight platforms estimate the average Massachusetts real estate agent salary to range from $28,000 to $115,000 per year. If you've written down an annual income goal, plug it into the decades-old real estate agent success formula to gain clarity on how to achieve your goal – and don't forget to play with the formula to see the massive impact commission split has on how much money you actually make as a real estate agent – learn more about why 100% commission for real estate agents is more important than ever.
Approximately $500 – the education requirement is approximately $300, the Massachusetts real estate PSI exam fee is $85, and a license fee of no more than $150. Consider a mindset shift too, your time is valuable and has a cost as well – the pre-license education is 40 hours and you're given up to 4 hours to take the exam.
Because you can take the test as many times as you need to, citing a difficulty level or pass rate is somewhat misleading. It's said there is only a 50% pass rate on the first attempt. The exam is 120 questions and has two sections, Massachusetts law (40 questions), and separately, general real estate knowledge (80 questions). You're given 4 hours to complete the test. You must achieve at least 70% on each section to pass the Massachusetts real estate exam and get your license.
No, the 40-hour pre-license education, delivered by an authorized real estate school in Massachusetts, is mandatory. Massachusetts does offer license reciprocity with some states so there's a chance to waive education requirements, yet if you're trying to get a real estate license for the first time in Massachusetts, you must complete the education requirement.
Yes, and, it's perfectly natural to feel uneasy about these topics as a new agent. Your pre-license education does not, and is not meant to, get to the practical side of doing real estate deals. Also, if you've been part of a real estate sale transaction personally, the process is probably somewhat of a blur at this point. We developed an on-demand online video training course that walks you step-by-step through a deal, which has proven really helpful for calming client handling and contract flow concerns and provides the practical training beyond your pre-license education you need to get off to a confident and fast start in your real estate career.
Best 100 Percent Commission Plan for Newly Licensed Massachusetts Real Estate Agents
Launch
J
o
i
n
N
o
w
100% Commission
$97 Transaction Fee
E&O Insurance Included
No Setup Fee
Questions to Ask a Broker as a New Massachusetts Real Estate Agent
Newly Licensed Real Estate Agents in MA Ask These Questions When Joining a 100% Commission Massachusetts Virtual Real Estate Brokerage for New Agents
No, there are no transaction minimums or quota and you will not be asked to leave if you haven't closed a deal in x months. A broker will not look over your shoulder and eagerly ask you when you will close your next deal – it should be evident gross commission as a result of closing a deal is immaterial to Stuart St James, as 100% of gross commission is passed to agents, save a relatively inconsequential transaction fee in our Launch plan.
Yes, we have multiple real estate lead generation opportunities for real estate agents, all optionally available to you. As a Stuart St James agent, you have immediate and exclusive access to highly qualified real estate leads in the markets you wish to serve live-transferred to you over the phone at no upfront cost to you via our exclusive Opcity real estate leads partnership. Separately, agents can take advantage of our real estate agent tech stack packages to buy corporate leads with Lead Catcher and/or build their own web presence and generate their own leads - both available at no-brainer exclusive prices and you will earn 100% commission. Real estate agents can diversify their lead generation strategy with any or all of these offers, optionally available to you if they make sense for your real estate business and brand.
There's no minimum term or commitment period when affiliating with Stuart St James, however, if your goal is to join the brokerage to do a personal transaction for yourself, take advantage of our 100% commission business model, and immediately leave, we respectfully ask you not to join - this "one and done" approach is obviously manipulative and we don't like being taken advantage of just like you don't.
Yes, we sure do. The biggest struggle we see newly licensed agents deal with is the challenge of how to bridge from pre-license education to practicing real estate, actually how to do a deal. It's actually a major concern for new agents who have never done a deal, and causes a tremendous amount of anxiety. We have an online on-demand video training course that walks you step-by-step through a deal and gives you the playbook, a tested and proven formula and process, for how to do a successful real estate transaction. The training course is also packed with a number of "pro tips" and real-world examples, so it's like you have a seasoned mentor walking you through one of their deals showing you the contract flow, a detailed walkthrough of all the real estate forms, how and where to negotiate, and proactive steps you can take to prevent a deal from falling apart.
The only document we electronically sign is the decades-old standard independent contractor agreement (ICA) promulgated by the Greater Boston Real Estate Board (GBREB) with the fee schedule on our website as an exhibit – transparently available for your full review
here (Launch plan PDF).
All earnest money deposits, along with additional Purchase & Sale Agreement (P&S) deposits, are held in escrow by your seller's real estate attorney / closing attorney, not Stuart St James.
Gross commission is always made payable to Stuart St James and deposited by you, or wired by a closing attorney, into our business operating account (mailing of checks causes significant delays in processing and transferring your net commission). After submitting supporting transaction documentation and your gross commission deposit clears (which typically takes one business day), transfer of your net commission is immediate via two payment options of your choice (1) Direct Deposit (free) which takes two banking days or (2) wire transfer ($30 fee) which is most oftentimes same day.
No. Massachusetts decouples MLS access from Realtor status and there's no requirement to join the National Association of Realtors (NAR), Massachusetts Association of Realtors (MAR), or the Greater Boston Real Estate Board (GBREB) to affiliate with Stuart St James.
No, it's not required – if you're simply looking to hang your license and/or keep fees low, access and affiliation with a MLS is optional. Membership to New England's largest MLS system, called MLS Property Information Network (MLS PIN), is optional and costs $126 per quarter.
Yes. We not only can provide you leads through our exclusive Opcity real estate leads partnership, but we also offer compelling real estate agent tech stacks at exclusive prices you're not able to achieve on your own that will help you (1) diversify your lead generation strategy and lower effective cost per lead and (2) launch a hyper-local web presence aligned to your brand and niche that you own and control. Optionally available if it makes sense for your real estate business.
Yes. When you join, you'll be given (free) access to a complete library of forms, one set promulgated by the Greater Boston Real Estate Board and the other set promulgated by the Massachusetts Association of Realtors (MAR). You get both.
It's a simple and straightforward process that can reasonably be accomplished in well under one (1) business day. We've automated nearly the entire process which has allowed us to eliminate a one-time agent setup fee. We electronically sign the ICA, you pay your first monthly agent fee, we provision you a stuartstjames.com G Suite account, file the necessary affiliation paperwork with the Board of Registration, and share a welcome email with you.
Stuart St James is a Massachusetts virtual real estate brokerage with agents all across Massachusetts. Residing in Boston is not a prerequisite to join – we even have multiple agents on the team licensed in Massachusetts yet who reside out of state. You do not need to come to Boston if and when you join, there's no need to come to Boston and we won't ask you to do so.

Join Today
Stuart St James is a Massachusetts virtual real estate brokerage built for newly licensed real estate agents. Join the best 100 percent commission real estate brokerage for new Massachusetts real estate agents.